Roll over winners' images to see their projects...

Grand Prize Winner:
Joshua Yi
3rd Grade,
Warnsdorfer Elementary School,
East Brunswick, NJ
Teacher: Mrs. C. Mazza

Nicholas Rayl
6th Grade,
Wilbur Middle School,
Wichita, KS

Benjamin Hong
3rd Grade,
Warnsdorfer Elementary School,
East Brunswick, NJ

Erik Forsten
5th Grade,
Broken Ground School
Concord, NH

Jacob Hille
4th Grade,
Lopatcong Elementary School
Lopatcong , NJ


Black Diamond
(Carolyn Vanti, Ethan Olivieri, Mason Wolff, Cole Shenigo)
5th Grade,
Cape Henry Collegiate School,
Virginia Beach, VA

Joshua will come to New York City to work with Laura Tufariello, founder of Design & Source, a company that develops, designs, and produces creative eco-friendly packaging, to create his design. He will have two exciting days exploring New York City, doing everything from visiting the Intrepid Sea Air and Space Museum to having a Pizza Tour of the City!
This trip is all expenses paid including airfare and other transportation for one winner and one parent/chaperone.

Finalists in the Zero Waste Topic have received prizes from Carolina Biological, Steve Spangler Toys, PITSCO, Rawhide Ranch and Escapade Direct.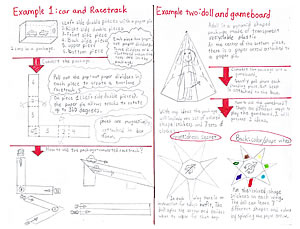 No More Trash but a Package of Fun.
Every Christmas my sister and I receive lots of presents, but we throw away most of the packages that are not necessarily good to the environment. When I found out about the Kids Science Challenge, I decided to pick Zero Waste because I wanted toy packages to be a fun part of the toy and will not be instantly disposed to the environment.
After I saw all the videos and pictures on the Science Challenge Website and discussed with my friends, I came up with two ideas. But the first one did not work well. The second idea called "no more trash, but a package of fun" converts the toy package into a fun, integrated, part of the toy, It not only protects the environment by saving packages, but also adds a lot of fun to children.
I hope this Christmas my sister and I will recieve toys with packages using my idea.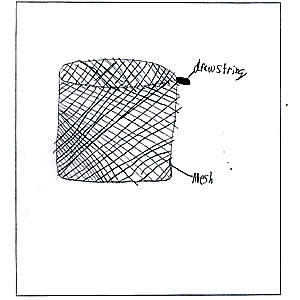 That socks come in a mesh bag to wash them in. Millions of baby socks are bought each year. Each set is packaged in cardboard or plastic Many packages are bought to replace lost socks. I think that all baby socks should be packaged in mesh laundry bags instead. If the bags had large mesh holes they would allow good water flow and keep the socks together and they wouldn't get lost.
While I was Wal-mart my mom and I were looking for socks that my little sister can wear. My mom buys socks all the time because, they dissapear in the wash. For instance one day I found a sock in a pair of pants I wore. The socks came packaged with plastic or cardboard that has to be disposed of. Nice people would at least recycle this material, but people just throw it away. If small socks came in a mesh bag it would eliminate the waste of the packaging. And people like my mom wouldn't waste socks, because they're lost. So not as much cotton would have to be used for making socks.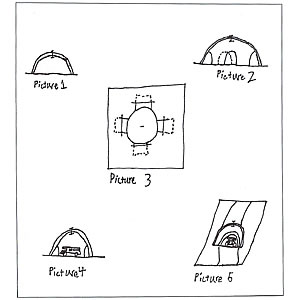 The topic I picked is Zero Waste. My idea is a recyclable design for a toy packaging, such as a toy car packaging.
The back of the packaging is made out of recyclable cardboard, with a picture that is related to the toy. For example, if the toy is a car, the cardboard could have a picture of a road on it.
The front of the packaging is a 2-layer recyclable transparent plastic in the shape of half-sphere. The half-spheres are spin-able. The two layers of half-spheres are connected to each other by an "I"-shaped axel that is also made out of recyclable plastic.
On two opposite sides of each half-sphere are two opening that are in the shape of lower-case letter "n", and are big enough for the toy car to go through. The spin-able top half-sphere should be in a position that the openings of each half-sphere are covered by the other half-sphere.
Both half-spheres are attached to the back cardboard. Each half-sphere has 2 flaps at the edges of two opposite sides that do not have the openings. The cardboard has 4 silts where the gaps are, and the flaps are inserted into the slits making the half-spheres attached to the cardboard.
After the toy car is removed from the packaging, the 2-layer half-spheres become part of the toy. When half-spheres are in the same position as when they are in the packaging, they make a garage for the toy car. When the openings of the top half-sphere are lined up with the openings of the bottom half-sphere, the half-spheres become a tunnel on top of the "road" on the cardboard.
I decided on the topic Zero Waste, because I love nature and I love trees. I hope my idea could protect nature and save the trees.
I have lots of toys. Sometimes when I bought a new toy, I had to throw out the packaging. That gave me the idea to design a toy packaging with zero waste.
In order to have zero waste, I think I should use recyclable materials. To make it more fun, I want the packaging to become part of the toy. That is how I decided to use recyclable cardboard for the back of the packaging and recyclable plastic for the front. The plastic has to be transparent so that people could see the toy inside. The cardboard could have a design of a road for the car to drive on. I also thought a spin-able top would be cool, so I chose 2-layer half-spheres that care connected to each other for the front of the packaging. Since half-spheres are spin-able, I came up with the idea of having opening on the half-spheres so that you could line up the openings and make a tunnel for the car to go through. At last, I needed to find a way to attach the front plastic part to the back cardboard. I thought about using a string made out of recyclable plastic to tie the front to the back cardboard, but it would need more material and it would not look very nice. Instead of using a string to tie the half-spheres through the cardboard, I realized I could give the half-spheres some flaps that could be inserted through the cardboard, this was the packaging would look very neat and no more extra pieces of materials are needed.
That is how I completed my zero-waste toy packaging design idea.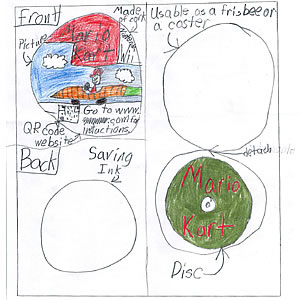 Why spend all that money on instuction paper when you can look it up on the internet? Why even have instuctions when they tell you in the begining of the game? Wouldn't it be cool if it came with an OUTdoor activity? Why waste all that plastic when you can just make it fit around the disc like a glove?
These are the questions that go through my head every time I get a Wii disc. That's why I though about how to improve it to it's max but still have pictures and what game it is.
Instead of wasting money on paper why not just make a website with videos and everything! That way people can look at what for example, a side-flip from Super Mario Galaxy, looks like in action. Mom's and dad's are always trying to get their kids active. So why not give a frisbee out with every purchase? Because it's exspensesive that's why. So just make it out of a light matereil like cork and let half be detachable. Finally, instead of wasting matereil and making it in a square why not just make it circular and it fits like a glove?
All these things would make bying a Wii game much more exciting.
I'm a big Wii fan. So every time I get a disc I take the disc out and start playing without even looking at the instuctions. So why even make it? That's why I thought just make a QR code and a website with the instuctions on it.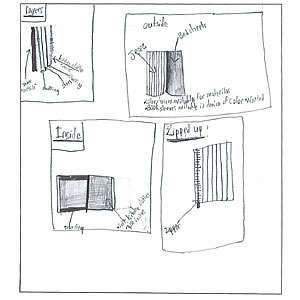 When you buy a tablet or phone the company uses lots of packageing like plastics, foam and cardboard to protect the merchandise. Most of this packaging ends up in landfills. A better way to package the product is to pack it in a protective case instead of all the unnecessary materials. Since most people have to buy a case for their tablet of phone anyways the case will be used and not thrown away. The case would be made out of recycled cloths and clothing that are donated to the company from people who no longer need them. The inside of the case would be made from thicker clothing such as fleece or animal fur. The outside of the case could be made from shirts, bed sheets or even a pair of jeans! All the company would have to do is attach a zipper and stitch the case together. My product protects the tablet or phone when it is shipped or just so it doesn't break. This is because I would put metal in it. The kind of metal I would use is steel. I would use steel because when you drop a chair it does not brake so this case won't break either.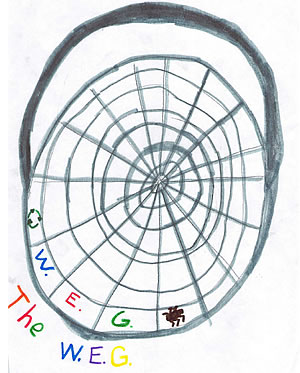 Do you want a bag that makes you and the future look good? Have you ever been doing errands and you are afraid your bag will break and all of your groceries will fall out? Well we have created the Weg. The Weg is a super strong, environmentally friendly bag made out of special spider web materials. The web combines a web and a bag. In our research we learned about how strong spider's web are. From Madagascar, the Darwin's bark spider has a web 10 times as strong as Kevlar, two times stronger then a regular spider. The weave design makes it stronger. Spider silk is made out of chains of amino acids (proteins) so we wondered if we could make the same kind of proteins in a manmade spider silk that would be biodegradable and still be strong. We could also use plastics made from corn to make the bag waterproof too.
We were looking for something strong to make a reusable bag that didn't hurt the environment, or end up in a landfill. We started out with a paper bag, but we read that half the landfills are filled with paper and we didn't want to waste trees. We have had reusable bags that don't last, rip easy, and can sit in the landfill when you are done with them for years and years. Plastic bags can stay in the landfill for many years and most end up in the water in the giant garbage patch in the Pacific Ocean hurting animals. The Weg was something we brainstormed. We designed the Weg after we researched spider webs. By the way, Weg stands for Webs Ending Garbage! One day we were researching for an idea and we came across the Darwin Bark Spider, and we thought it would be a good idea to make a bag out of spider webs The bag may also be turned into the smaller WAG, that would be a "scoop the poop" bag for a dogs that would biodegrade back into the earth when you throw it away.
So you want to make your friends jealous with a cool looking reusable bag? It is up to you to save the future, take the Weg!!