Winners Announced

We are pleased to announce the
GRAND PRIZE WINNERS and FINALISTS
in the
2010-2011 Kids' Science Challenge competition!
[Rollover images to view project descriptions]
Grand Prize Winner:
Merrie Benjamin,
3rd Grade,
Pine Cobble School,
Williamstown, MA

Finalist Winners:


Dane Seal
4th Grade,
Buck Lake Elementary,
Tallahassee, FL

Team Sound Boomers
(Akhil Thadidsila and Kyle Lin)
3rd Grade,
Lawrence Brook School,
East Brunswick, NJ

Leila Hudson
3rd Grade,
Brookside Elementary,
Yorktown Heights, NY

Ethan Stoner
5th Grade,
Northside Elementary,
Mechanicsburg, PA

Team Bouncer Pass
(Evan Cox, Max Moran and David Zhang)
5th Grade,
Nuckols Farm Elementary,
Richmond, VA

Joseph Rubino
5th Grade,
Mt. St. Mary's Academy,
Penn Valley, CA

Abbey John
6th Grade,
Valley Elementary,
Conyngham, PA

Grand Prize Winner:
Peyton Robertson
3rd Grade,
Pine Crest School,
Fort Lauderdale, FL

Finalist Winners:


Neon Reefs
(Talia Genossar, Jordan Sarrett and Bayla Deel)
5th Grade,
Cape Henry Collegiate School,
Virginia Beach, VA

Scott Nutter
4th Grade,
Port Angeles, WA

X Factors
(Michael Xystros, Nathaniel Thomas, Rex Serpe and Cameron Salvon-Harmon)
5th Grade,
Cape Henry Collegiate School,
Virginia Beach, VA

Aditya Mehrotra
5th Grade,
East Brunswick, NJ

Douglas Read
5th Grade,
Sunrise Elementary,
Sayville, NY

The Science Men
(Carson Averette, Grayson Browning, Reed Goldner and Jack Rosenblum)
5th Grade,
Cape Henry Collegiate School,
Virginia Beach, VA

The Belly-Flop Medics
(Raveesh Mehta and Sarah Adams)
3rd Grade,
Robert Frost Elementary,
East Brunswick, NJ


Jonathan Limo
5th grade,
Roselle Park Middle School,
Roselle Park, NJ

Grand Prize Winner:
Sona Dolasia
6th Grade,
Mill Valley Middle School,
Mill Valley, CA

Finalist Winners:

The Microbe Masters
(Jordan Flores and Sydney Coldren)
3rd Grade,
Barrett Elementary,
Arlington, VA

Adia Bulawa
4th Grade,
Neighborhood After-School Science Program,
Ava, NY

Selale Gunal
3rd Grade,
PS77 Lower Lab,
New York, NY

Logan Guleff
3rd Grade,
Guleff Home School,
Memphis, TN

Merrie Benjamin
3rd Grade,
Pine Cobble School,
Williamstown, MA

The Tooth Paste Fairies
(Renee Bawcom, Julia Grimson, Ekaternia Forkin and Gabby Lascari)
5th Grade,
Cape Henry Collegiate School,
Virginia Beach, VA

Alejandra Renteria
5th Grade,
San Antonio Elementary,
Bell, CA
My musical instrument is called the water spritz. It is a group of spritz bottles full of water. If you pull the handle which makes the water come out, the water is sprayed into a cup. Depending on what the cup is made of, it will make a different sound. It doesn't make the sound if the cup already has water in it. The necessary vibration to make the sound never vibrates if it's full of water. So I decided to put tubes which lead back into the spritz bottle. The sound is always clear and you never run out of water. The vibration in the water hitting the cup makes the sound. This instrument is also good because recycled bottles make it work, so you don't throw away the bottles, but instead make a cool instrument. Everything is connected by metal planks.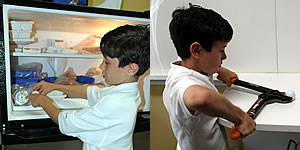 How does the temperature of the core of the golf ball affect the distance that the ball travels? My idea is to create a ball warmer which would keep the core of a golf ball warm. If players place their ball inside the warmer until they begin to play a hole, they would be able to hit the ball consistently in any temperature. I asked my Dad how golf balls are made. We cracked open a golf ball and then googled how golf balls are designed. Our research told us that, while some golf balls have two and others have three layers, all golf balls have a hard plastic outer shell and a rubber core. Next, I researched how temperature affects rubber. I learned that the rubber inside a golf ball allows the ball to "bounce" off of the golf club. Therefore, at impact, the ball has an elastic collision during which energy is transferred from the club to the ball. There is a second collision when the ball bounces on the ground. It seems that this kind of energy is called kinetic energy. Balls with warm cores have more bounce: they are more elastic. Balls with cold cores have less bounce: they are inelastic. Warm balls have a greater ability to flex during a collision with the club and there fore transfer more kinetic energy to the ball. The warmer the core, the more elastic it becomes, and the farther it travels when struck. I spoke with my science teacher, Mrs.Graf, about kinetic energy and my ideas about how to test my hypothesis. She helped me understand that I had to keep all of the variables constant in my experiment except for the temperature of the ball. My Dad helped me to put up our tallest ladder--10 feet-- so the height was constant. We taped a tube to the ladder which allowed me to drop the ball the same speed every time-so the velocity was constant. Finally, we strapped a tape measure to the ladder to consistently measure the bounce. My dad and I called Callaway golf to ask if they could mail just the core of the ball, but they said they could not do that. So, we took some hedge trimmers and cut away the outer plastic covering from three Callaway golf balls. We heated one ball on the stove to 100 degrees F, cooled one ball in the freezer to 26 degrees F, and kept one ball at room temperature. I dropped each ball 10 times from the ladder.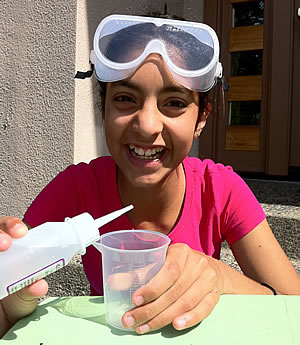 One of major problems these days is that there is not enough fresh water in the world. Today we use desalination in some pats of the world to solve this problem, but it is super expensive and takes a long time. My idea of using a microbe called lithotrophs may not only work faster but it would also be cheaper, so every one could afford it. Lithotrophs are microbes that can eat the salts in stones and rocks. If we could modify these just like how scientists modified bactria to make 'bacafilla' (the new cement glue) to eat salts in the ocean instead. It may work. However, since we don't know if they are harmful to humans we would need to test them, and if they are maybe find a way to either extract them or modify them to self destruct after their job is done. I would love to work with a scientist regarding this problem.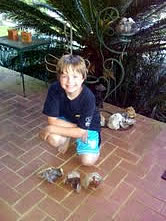 I am thinking of making a geode xylophone. Geodes are hollow rocks. Because geodes are hollow, the air can vibrate inside them making musical sounds. The geodes I will use are fossilized coral I found while I was canoeing. I will make different notes with eight different size rocks. I am choosing eight rocks in order to make a scale. The smaller the space inside the geode,the higher the note. I will gently tap the geodes with my rock hammer to make music.
Our team wants to prepare/invent a new musical instrument. The new musical instrument will combine a string instrument and a percussion instrument. To develop this instrument, an (or multiple) rubber bands are streched over a drum. The strings will be beaded with beads of different materials at preset locations. Once the elastic string is strummed, the beads hit the drum material causing a new sound. Based on the number and types of beads attached to the elastic material the sound will vary significantly. Also, the distance from the string to the drum will cause a significant variation on the sound generated.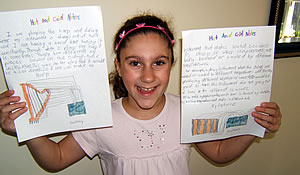 Making an instrument that plays using different temperatures. For example, a string instrument where the strings are heated or cooled to different temperatures and thereby producing different vibrational sounds. It would be good to have this instrument also not going out of tune in the different seasons. Another idea would be a xylophone with metal bars, where each bar is heated by electricity to a different temperature and makes a different note. I have made two drawings, one of a xylophone type instrument, the other a harp like string instrument, both have their strings and bars heated or cooled by electricity producing sounds through the different temperatures.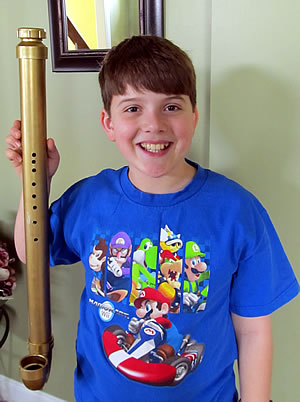 My question was, "What instrument could I make that has a unique sound?" The difficulty of this project was the amount of instruments out there. As I did my research, I discovered even more instruments from around the world that already existed. Then I found instructions on making straw reeds. I then developed the questions, "Which straw makes the best sound?" and "How can I alter the sound made by the reed to make it unique?"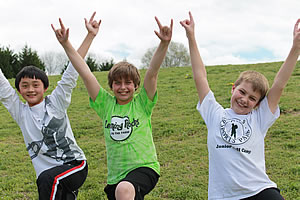 Have you ever felt like you wanted an instrument that could make a unique sound? Well, we have done that. We made the Springer, an instrument that a single player plays it by plucking 11 strings. It will make a unique "twangy" sound. As you can see our idea is a little crazy, but please keep reading so you can see the worth in our instrument.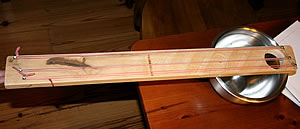 The instrument will be made out of wood, rubber bands, and a bowl. First the wood needs to be two feet with two inch diameter whole close to the end. You need to screw 3 nails at both ends. Then put an inch of water in the bowl and screw it under the hole. On the screws, stretch the rubber bands in a straight line. The size of the rubberband may vary. To play it shake the bowl and strum the bands. It will make different sounds because of the size of the rubberband.
My idea for a new instrument is boomabar. This instrument will be a wind instrument in the shape of a Y or a boomerang with three different openings to blow into. The ends in which you blow into will be different sizes so that they will produce different sounds. Each arm contains four holes. No matter what end is played 8 notes or an octive will be made. The boomabar would be made out of chestnut wood. I think the boomabar would be a unique instrument because of its innerchangable ways of playing it.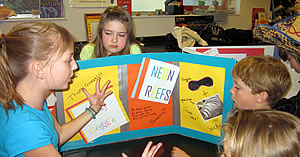 Our team had the idea for Sticky Goggles. They would come in many fun colors, but the best thing is that they adjust to fit your face without straps! We learned that regular goggles have heavy and painful plastic straps. Sticky goggles would have a material design all around the edges of the lens so that they stick to your face like gecko feet, using tiny, nano-size hairs. They would be much lighter then regular goggles and hold on much better. THey could push on then peel off. They would be so light, but hold on tight. You could hardly feel they are there. (They should come in prescription lenses) You could win the race!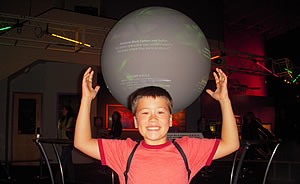 I think there should be some kind of patch like a bandaid that you can wear while playing sports. If you get dehydrated, it would turn a certain color so you would know you need to drink water.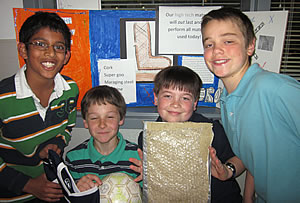 The Zero G is a new shin guard that has a revolutionary design. It has materials that will mold to perfectly fit your leg. We would use new materials for light, protective layers that are absorbent and comfortable. Zero G would have a strong outer layer of maraging steel and graphene. It would be a thin sheet and almost as hard as diamonds (it is even used on tanks!) but in a pattern like a chain link fence. On impact, it would protect you and distribute he strike so that the material doesn't break apart. For a layer of absorbent material we read about super goo. It is a super absorbent substance that holds a huge amount of water. It is made up of tiny crystals called sodium polyacrylate. This could absorb the sweat, and move it away from the skin. Then we want to add a layer of natural material like cork, it would be light and work like a pad.
I propose using Carbon Nanotubes to make baseball bats and helmets I think the use of carbon nanotubes would help a lot is designing new baseball bats and even helmets. I have played baseball and had problems with the bats and helmets being too heavy. I read about the ways in which nanotechnology is being used to make stuff and realized that innovative designs in sports have always been accepted readily especially when it leads to improved performances by players. This would be a great technology to make baseball more fun. The advantages of using nano technology are: Bats will be more durable so we don't have problems of bats denting or breaking. Bats will be light-weight and easier to use and so easier to strike. Better bat design that would also enable higher performance. Environmentally friendly since less trees will be chopped down for making wooden bats and less energy will be used than is needed to make steel bats. Helmets will be sturdier and lighter and easier to use, so less injury to players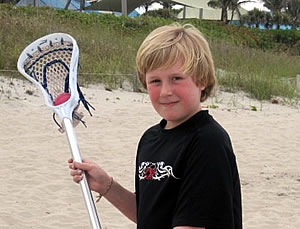 Using microbes (the yeast plastic) to make new sports equipment. We can use this plastic to replace the plastic that takes years to break down to a new and improved biodegradable plastic to replace harmful plastic that takes years to break down. We can use this in bathing cups, helmets, chin guards and anything in sports made out of plastic.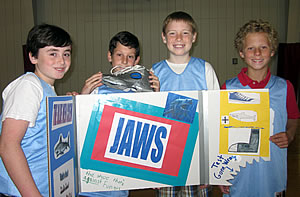 Our idea, JAWS, is to have a sports shoe that will not only fight against disgusting, heartbreaking bacteria, but also be more comfortable and designed specially just for your foot. It is a shoe just for you! The science men team has designed a shoe with a special lining inside that has a pattern like sharkskin. Did you know that most fish have scales, but sharks don't? They have dermal denticles that have patterns of ridges so that the harmful bacteria can't grow on them. We also want to use a layer of cornstarch mixture, to mold around your foot. It would be padding that would work sometimes like a solid, and sometimes like a softer liquid. JAWS shoes would be helpful, original, cool looking, and safe!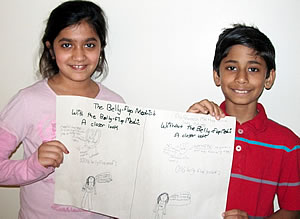 Did you ever get a stinging feeling from doing a belly-flop or diving from height? Well here's the solution... The Belly-Flop Medic! The belly-flop medic will help when diving or doing a belly-flop sp you won't be feeling any pain while doing a belly-flop or diving from height. The belly-flop medic will also help you rise to the surface faster. S there is a 25% less chance of drowning. The belly-flop medic has three layers which are; rubber, cevlar, and foam. The belly-flop will help for sure. I think the belly-flop medic will help people in the U.S.A. As you can see the belly-flop medic will be a successful product.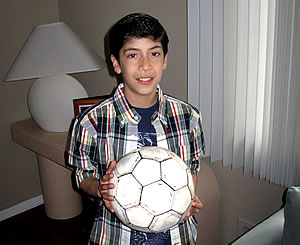 I chose to make a new type of ankle guards that is used when playing soccer. Ankle guards are used by people who don't want to twist an ankle by accident and are especially used by people who have bad ankles. The new type of ankle guards will be made of high density visco foam. This type of foam is very comfortable so you are not getting an itch on your foot during the game. This foam is also firm so it will hold your ankle in the correct from standing up. Also this foam is so firm and comfortable that your ankle will not be able to twist when tripping because it will hold it straight up. I hope this invention will come true so that people who play soccer can be ankle-twisting free.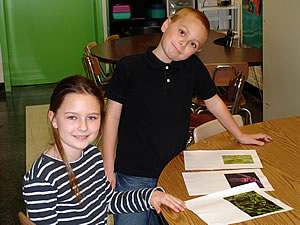 Our question is- How can we use the pitch of sound to affect or control microbes? We researched about sound and wondered if the changing of wave frequency could affect microbes in a way that could lend to controlling them.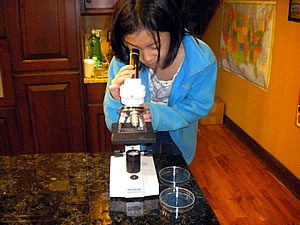 I read about ants that grow gardens. They grow fungus. They grow the fungus to eat like we grow mushrooms in gardens. The ants garens get attacked by a fungus called Escovopsis. Our food can also get attacked and ruined by fingus. The ants have developed a very amazing way to keep their food safe. The ants carry bacteria on their back. It looks like fuzzy white patches on their back. This bacteria produces an antibiotic that slows and stops the growth of the food killing Escobopsis. This bacteria is called Pseudonocardia. We can try to learn about the antibiotto ic it makes. This could be used to help people keep their food fresh for longer. It could also help farmers prevent their gardens from being destroyed. Many people can be helped if we can learn how to keep healthy food fresh for longer time.
Can we use microbes for art? Once in science, I experimented with milk. There was a bowl of milk on my table and my science teacher Katarina put in red food coloring. The red food coloring expanded until it stopped. Then Katarina put in yellow food coloring. It expanded and started pushing the red. Can microbes do this? My question is if you color one microbe can it expand (grow) into many colored microbes? Then coloring a few with different colors could make nice pictures that can be seen by eye. Also can you help them expand in a certain path? Maybe you can with some microbe food.
I think it would be nice to have a microbe that eats the plaque and scar tissue in your arteries. I would like to eat a powder with the microbe in it and then take drink. A lot of people die of heart disease so I think it would save lives.
My idea is to decompose leaves faster so that you don't have to rake so much. Now there are the psychrophiles, the mesophiles, and the thermophiles. The psychophiles are the low temperature of bacteria. Their temperature ranges from about 0 degrees and can go to 70 degrees. The mesophiles is the medium temperture of bacteria. They start at around 40 degrees and end at somewhere near 110 degrees. The thermophiles can go from 110 to 200 degrees. We have to bring in the thermophiles and their tempertures in order for the leaves to decompose. How do we bring the thermophilesquicker? Maybe deomposition will do most of the work of raking if the thermophiles can get there faster. Thank you.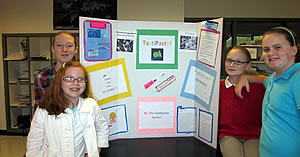 The Tooth Paste Fairies invented Tasti Paste, a delicious way to make kids want to brush their teeth longer, while fighting plaque and cavities naturally with microbes! We learned that regular toothpaste is used to make teeth whiter and prevent tooth decay. The major purpose of brushing with toothpaste is to remove plaque. Plaque is a sticky substance that forms on teeth and it made of bacteria, saliva, and compounds dissolved from food. When plaque turns to tartar, the acid starts to erode the tooths hard outer coating called enamel. This can make cavities and cause other diseases. All toothpastes are a mix of a lot of ingredients including an abrasive, a detergent, a thickener, a moisturizer, and water. THey also have flavors, colors, and sweeteners. We were sad to find out that some toothpastes have antibacterial chemicals like Triclosan that has been found in dolphins and can damage their development! We wanted to put helpful microbes into our Tastipaste to fight the bad bacteria without having to use chemicals that are harmful to the environment. Microbes live everywhere. They especially love moist and wet habitats. That means the average human is a microbe paradise! We learned that some fungi has been used to treat bacterial infections. Fungi includes mold like with the discovery of Penicillin. Our team wants to design a toothpaste that is all natural, using microbes to fight plaque build up. We hope to see many white smiles!
My idea is a shampoo that uses microbes to kill fleas off of a pet. It does not use any chemicals. It will use a microbe that is fatal to fleas and it won't hurt the pet or pet owner. When the soap that contains the microbe touches a flea, it will die, but not instantly. The microbe will slowly kill the fleas and the pet will no longer suffer scratching at fleas. Chemicals will kill the fleas, but it is also a danger to your pet. With my shampoo for pets, you don't need to add harsh chemicals, you just put on the soap.